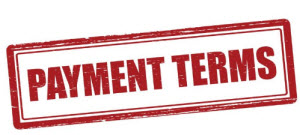 Prompt payment is important for the health of your business – it allows you to manage overhead and project future income. When working with a home warranty, insurance, or home repair plan company, it's vital to understand how you will get paid before a job begins.

Common payment options available

The speed with which you are paid by a home insurance, home warranty, or home repair plan company will vary depending on how you choose to accept payment. The most popular ways are:

Check – the company's accounting department processes your invoice and sends you a check, usually 30 days from the time your invoice was received.
Direct deposit through ACH – Your payment is deposited directly into your bank account. There is usually a processing period of between two and five days from the time the payment is issued to the time you receive payment.
Credit card – for a small processing fee, this option will get you paid the fastest – usually about 72 hours after your invoice is submitted. You'll be able to use your credit card at most vendors that accept major credit cards.
Both of these options are available for contractors in HomeServe's home repair contractor network.
Which payment option is best?
The payment method you choose depends on your needs and the structure of your business. If you are looking to improve cash flow so you can make investments in equipment or personnel in the coming weeks and months, a P-card might be best. If immediate cash flow isn't a critical requirement and you'd prefer to use a more universal method of payment, check or direct deposit might be a better option.
HomeServe's approach to paying contractors
As a leading home warranty and repair plan company we understand that making sure our contractors get paid promptly is essential to maintaining a strong relationship with a network of reliable, high-quality providers. We are also sensitive to cash flow needs. We offer payment terms of net 30 as long as your invoice is submitted within 90 days of the completion of a job – but we strive to pay you sooner, no matter which method of payment you choose.
Our invoice procedure is standardized to require basic information like line items for work completed, time of arrival and departure, and signature from the customer. When you become a HomeServe provider, you will be assigned to an onboarding expert who will help you understand the invoicing process, get you up and running with our work management software and answer any other questions you may have. From there, one of HomeServe's Regional Operations Managers is responsible for managing the relationship and your success in the network.
If you've had bad experiences with collecting payments owed to you, or you're worried about working with an insurance, warranty, or home repair plan company for this reason, HomeServe's philosophy of quick payment available through several methods may be a good fit for your business.
For more information about becoming a part of our trusted network of service providers, click here.