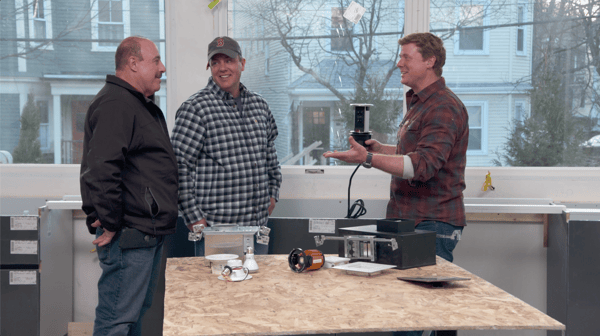 TOH Host Kevin O'Connor spoke with electricians Heath Eastman and Steve Iavarone.
HomeServe is proud to partner with This Old House. We recently tackled the topic of electricity in a Pro2Pro livestream. Specifically, Kevin O'Connor and two electricians discussed

recessed lighting, ho

w to navigate code-mandated outlet spacing in kitchens when windows get in the way, and much more, live from the Brookline, MA project.

We then spoke with Steve Iavarone, the HomeServe contractor who was featured on the Pro2Pro livestream. A contractor based in Long Island, NY, Iavarone possesses a multitude of experience.
HSUSA Question: How was your experience representing HomeServe on the This Old House Pro2Pro segment?
SI: You know, it's funny, because I represent HomeServe every day of my life. But on T.V., it was great!
HSUSA Question: What was your favorite aspect of the day?
SI: It was getting to look at the job and seeing how other electricians do it. I had a lot in common with Heath [Eastman], he was a great guy. That was the highlight of the day, to meet with someone from another state.
HSUSA Question: What do you think is the biggest challenge they face with finishing the Brookline house?
SI: The architects and the designers changing everything every minute. We electricians have all the same problems and challenges, it doesn't matter what state you are in.
HSUSA Question: Do you encounter the issues that you faced on the Pro2Pro segment in your every day work with HomeServe customers?
SI: Oh yes, every day. The work is the work and it's all the same everywhere. Each day, it's just a matter of how we attack the issues.
HSUSA Question: How do you find that HomeServe benefits your business?
SI: In a lot of ways. [HomeServe] makes life easier! I love working with the customer service team. I love talking with them. They are very friendly. You call in and talk to the same [customer service] people every time and they are great. At the end of the day, we are all friends and we have made that customer happy. That's what matters.
Thank you, Steve! Readers, in case you missed the Pro2Pro, watch it here. Also, stay tuned for the next episode!